Quaker Meeting House Achieves LEED Platinum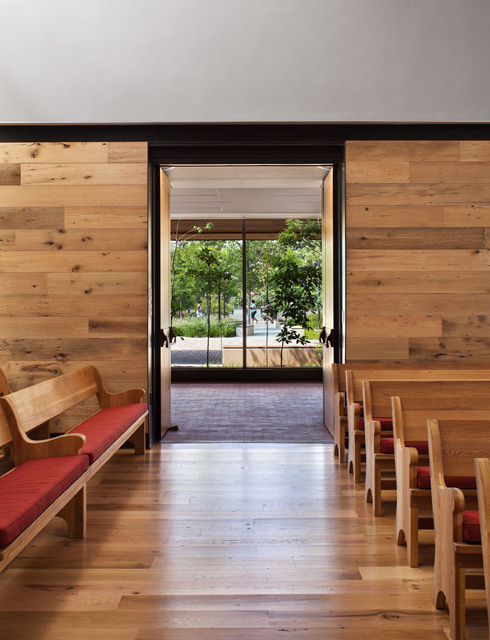 The Quaker Meeting House and Arts Center at Sidwell Friends School in Washington, DC, has been rated LEED® Platinum—the highest level of environmental certification from the U.S. Green Building Council.

The building represents a maximum reuse of existing resources, transforming a large former gymnasium built in the 1950s into a space of filtered light and silent contemplation. As a retrofit, it does not add additional embodied energy nor create a greater footprint that would impact stormwater flows. The project also makes use of reclaimed materials wherever possible. To eliminate the need for harvesting standing timber, the oak flooring and paneling of the meeting room were made from reclaimed wood sourced from barns in West Virginia and Maryland. New pervious paving in the front courtyard makes use of concrete removed during the renovation to create a porous infill that minimizes stormwater runoff, which causes flooding, erosion, and pollution of local waterways.
The existing envelope was heavily modified to increase insulation, achieve greater protection from solar radiation, and improve daylighting. To address energy conservation, the project makes use of the heating and cooling capacity from a central plant in an adjacent building, capitalizing on the efficiencies of scale afforded by the large system. The HVAC system employs a mixture of passive and active low-energy responses according to changes in air flow, temperature, and occupancy.

The energy profile is further complemented by an onsite photovoltaic array that provides nearly half the building's energy. A favorite sustainable feature of the design team, the photovoltaic roof with two skylights allows the same sunlight falling upon the roof to be both performative and contemplative—both real electricity to power the building and a source of wonder to power the mind and soul.