How can we make environmentally responsible, innovative housing products and building methodologies more accessible in the marketplace?
Our partnership with Santa Monica-based developer LivingHomes was forged with the goal of creating mass-customized, sustainable housing that reflects our ongoing interest in efficiently constructed, environmentally responsible dwellings.
This time, we took the ideas explored at Loblolly House—an off-site fabricated single-family dwelling highly integrated to its setting on the Cheseapeake Bay in Maryland—and sought to translate them into a housing product for a wider marketplace. The principles remain the same, but a more accommodating price point offers broader access to sustainable design that may be customized to an owner's wishes and reconfigured as needs change over time. These projects make use of new technologies to provide homes that are not only revolutionary with regard to their environmental benefits but also inspiring to inhabit.
KTLH 1.5
The KTLH 1.5 is the first built example in the series of homes created with LivingHomes, demonstrating a clear alternative to traditional, on-site building practices. The house is assembled from simple, modern stacked modules that offer open interiors filled with natural light. The factory-fabricated modules deliver sustainable architecture with far less time and waste and at higher quality than a similar home constructed on site.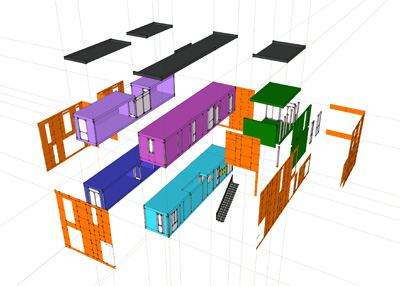 Four modules comprise the main living areas of the two-story home. Two of them, termed "smart" modules, are outfitted with the home's mechanical, plumbing, and electrical systems. When the modules are stacked, the systems align, resulting in labor and material savings. Each module is comprised of recycled steel, with engineered lumber frames. Bio-composite wood siding, recycled glass tiles, blown-in insulation, high-performance windows with recycled frames, and water-saving features reduce the environmental footprint. Efficient ventilation systems improve air quality, and photovoltaic panels on the roof offset energy use. A monitoring dashboard displays water, energy, and gas usage in real-time, empowering home owners to make responsible choices about their use of resources.
Just as these homes are customizable at outset, with multiple configurations and material choices to adapt to different sites, they also have the capacity to adjust quickly and affordably to changing lifestyle needs. KTLH 1.5 can easily expand from a two-story, two-bedroom home to a three-story home with multiple bedrooms. The first KTLH 1.5 was factory built in California and installed in four days as a model home at the 2009 International Builders' Show in Las Vegas, Nevada. It was later displayed at the 2009 TED Conference in Long Beach, California, before being sold to a private owner and installed in Newport Beach, California.
Belles Townhomes
Belles Townhomes are based on a similar ethic, adapted to a multifamily structure in San Francisco's Presidio National Park. Built by Forest City as part of the Presidio Landmark adaptive re-use project, the complex contains seven townhomes surrounding a shared green. Each three-bedroom, three-bathroom home has a ground-level patio overlooking the green, a terrace off the main living area, and a panoramic roof deck. More than 90 percent of the interior of each home receives natural daylighting.
Though built using conventional construction methods, the townhomes were designed to maximize achievement of LivingHomes' stringent Z6 environmental goals: zero energy, zero water, zero indoor emissions, zero waste, zero carbon, and zero ignorance. As with KTLH 1.5, the zero-ignorance goal is met through a building dashboard that captures real-time feedback about resource usage. Other goals are fulfilled through efficient appliances, high insulation, photovoltaic panels, rainwater collection, recycled materials, and many other sustainable initiatives. The townhomes prioritize materials that are healthy for humans, including formaldehyde-free wood, and carpets, paints, and sealants with no or low volatile organic compounds.

KTLH 1.5 and Belles Townhomes allowed us to extend our design investment in efficient construction and sustainable shelter, interpreting and adapting it to products available to a wider audience.