Monitoring Performance at Cellophane House™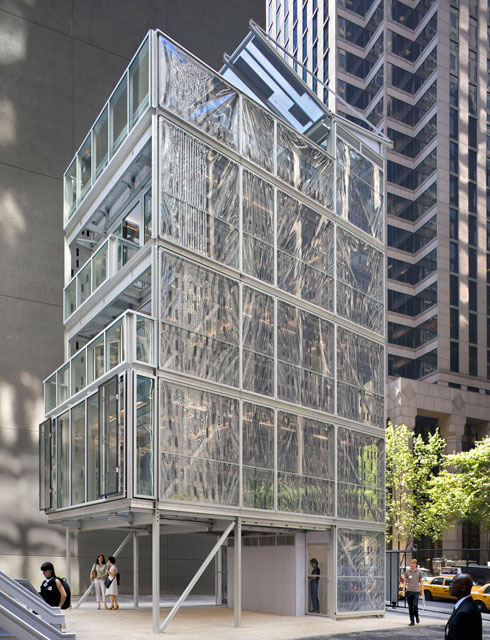 How well does a plastic building envelope function in the summer heat of New York City? We attached sensors to the house to collect data on the thermal performance of our SmartWrap™ building skin.
With the 53rd Street buildings hovering over the exhibition site, the house is in shade for most of the day, so we settled on monitoring the west elevation—the only location with direct solar exposure—which currently gets about four hours of sunlight. We wired the west elevation with sensors on each of the four layers of the PET envelope. These read the envelope's surface temperatures. Data is routed to loggers tucked discreetly inside the chase wall, and all wires are nestled into the grooves of the house's aluminum frame. Data is logged every 15 minutes, 24 hours a day, from July to October.
To add context to the building envelope data, we are monitoring the relative humidity on the third floor as well as solar radiation, ambient temperatures, and relative humidity on the roof. We are also analyzing the airspeed within the cavity space of the building envelope with a digital anemometer, a device for measuring wind speed in low velocity situations, to determine if the thermal "stack" performs as designed.
The data generated will not only inform our research group after the MoMA exhibit is over, but will also provide a more complete understanding of the insulative capacities this building envelope, the efficacy of the thermal stack, and the dynamics between outdoor temperatures and the interior environment of the house.