Watch: A Modular Home with a View
Inspired by our book on Loblolly House, clients in California asked us to design an off-site fabricated home uniquely tuned to their steeply sloped site in the mountains of Mendocino County. The clients, a physician and a Silicon Valley electrical engineer turned artist, envisioned the home as a weekend getaway from San Francisco. It includes a 2,600 square-foot house and two free-standing studio structures of 300 square feet each.
The modules for this weekend retreat known as "High Horse Ranch" were built by Moderna Homes within their workshop in San Jose and delivered to the remote site on flatbed trucks.
Over the course of two days, the modules were carefully set on site by Bent Level Construction, who successfully negotiated the rugged terrain and avoided damage to vegetation.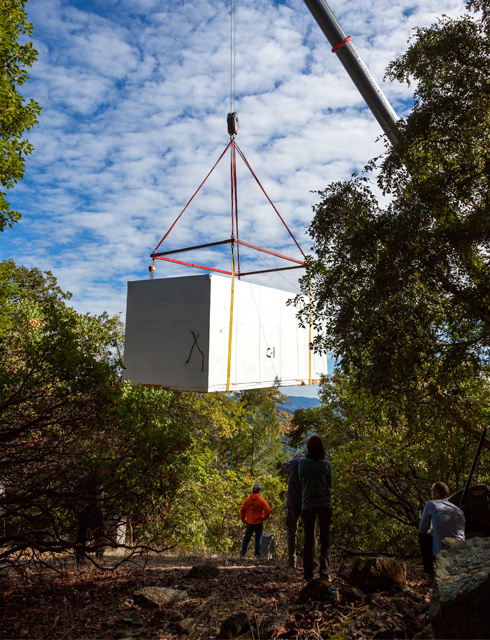 A single module comprising each studio was first lifted into place with the use of a crane and positioned atop a foundation of four concrete piers. The thirteen modules and roof panel of the main house were then maneuvered by trailer and craned into place, beginning with the main circulation and service spine at the center of the home.
While Loblolly House made use of a skeleton of scaffolding inserted with blocks and cartridges, High Horse Ranch is comprised entirely of modules. They are of two basic types: enclosed, service-intensive modules that form the spine of the home, and large, open modules that form the living spaces. The latter are infilled with glazing to offer views of the landscape.
Modular construction was pursued for this project in order to minimize disruption to the 40-acre site, allowing us to touch the landscape only lightly and to preserve the meadows and wooded slopes. No trees were harmed during the process: an eight-inch section of a single dead branch was the only tree cut over the course of the two-day set.
The final steps include making electrical connections across modules, adding the roof, creating a water-tight weather barrier, and completing the finishes and cladding. This on-site work is being managed by Buckeye Construction.