A Dialogue with the Past at Morse College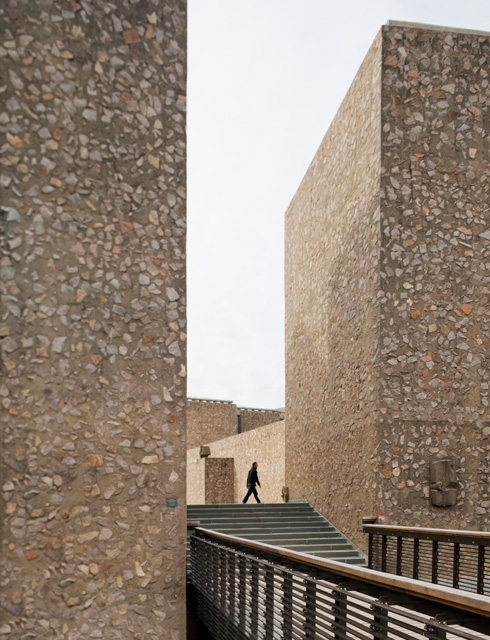 The September 24, 2010 issue of the Yale Herald reflects on the history of Morse College, designed by Eero Saarinen, and what it means to bring the buildings into the present day.
Morse, Modernism, and Fifty Years of Yale
By Hannah Kieschnick

Morse has always been a new college. Constructed in 1961, Morse is less than thirty years younger than the original colleges, most of which were designed by John Gamble Rogers and built in the '30s. But Morse isn't modern, it's Modern; Morse is coming up on its fiftieth birthday. It is no longer the baby of the bunch but the estranged, middle-aged aunt, and it has just received its mid-life crisis makeover.
For many years Morse was a college in confusion—the jutting blocks of cement, rough walls, and various influences of the '60s, '70s, '80s, and '90s (more on this later) combined to create an impression no one knew how to understand. But with last year's renovation, Morse is returning to its roots. Eero Saarinen, ARC '34, began the process in the late '50s, combining the historical traditions of Oxford and Cambridge, Yale's reputation as a university of towers, and the needs of Yale men. Each generation of Morsels to pass through the disparate levels of Morse's courtyard has contributed its own interpretation of what students require from a living space. And, with the renovation this past year, architecture firm KieranTimberlake joins the conversation, emphasizing contemporary standards and needs but also referring back to Saarinen and his vision for a forever-new college.

Saarinen designed Morse for a Yale radically different than the Yale of today. Cesar Pelli, the distinguished New Haven architect and former Dean of the School of Architecture, was chief designer of Morse and its sister college Stiles and worked closely with Saarinen. It was Pelli's job to interview students and determine their needs and desires for the new colleges.

"Everybody wanted single rooms, so Morse and Stiles are full of single rooms," Pelli said.

According to Stephen Kieran of KieranTimberlake, the desire for single rooms was not merely based on a need for personal space and quiet time: "After World War II, Yale was a very dense place [because of the GI bill]. All the servicemen came back. In this context of really severe overcrowding, the desire of students to get singles became the model for Morse." From this basic need for individual space, Saarinen expanded his vision, designing a complex cement structure, its floor plan impossibly intricate and its concrete facade striking and controversial.

Continue reading