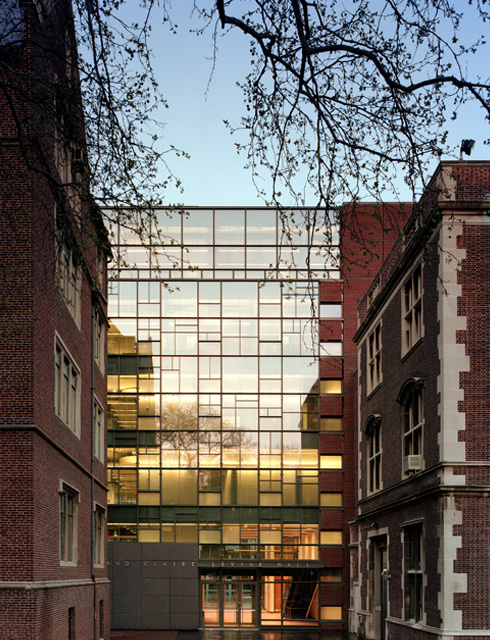 As we celebrate our 30th year in practice, we revisit some of our past works to see how they have matured and uncover what we can learn from them today.

By Fátima Olivieri
Completed in 2003 as part of the School of Engineering and Applied Sciences at the University of Pennsylvania, the Melvin J. and Claire Levine Hall is a 48,000 square-foot addition that adjoins two historic structures, the Graduate Research Wing of the Moore School and the Towne Building. This new structure was built as a home for the Department of Computer and Information Science, providing much-needed faculty offices, labs, classrooms, and student amenities such as the Wu and Chen Auditorium, Weiss Tech House, and a café.

With Levine Hall, the university wanted to amplify the work of the School of Engineering and demonstrate its pioneering spirit through architecture. KieranTimberlake proposed a narrow, 6-story, bridge-like addition that would connect the existing buildings and minimize the footprint at street level. Expansive glass curtainwalls were used as the primary facades to make the activities inside the building visible to all and to maximize light and view on a dense urban site.
Read More